The Pulkovo Sky Business Centre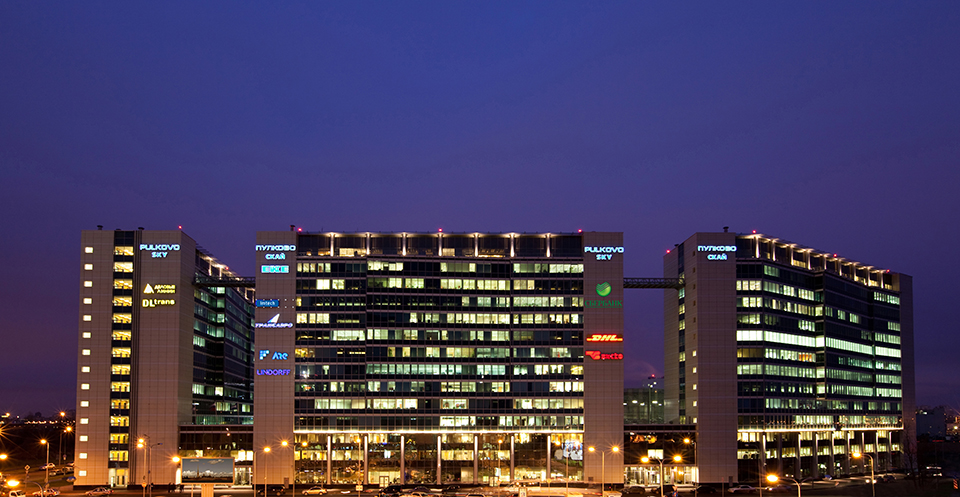 In Russia, EKE Group owns and operates the Pulkovo Sky Business Centre, which it designed and constructed next to the international airport of St. Petersburg. Construction work on the plot began in 2007, and within two years we completed one of the largest and most modern business centres in St. Petersburg. Our partner in the category A business centre is the Finnish real estate investment company Vicus Oy.
In 2016, Pulkovo Sky is fully booked. Our clients are Russian companies that appreciate the good transport connections, the building's efficient floor plan solutions, the high-quality HPAC and electricity systems, the friendly and rapid service and the superb view of  the airport runways.
The centre is located in the Pulkovo 3 business zone, which in recent years was developed into a significant business centre. The transport connections will be further improved in 2017 when St. Petersburg's western bypass road  is completed, enabling rapid connections with the Vasilyevsky Island near the centre and to the highway to Finland on the northern shore of the Gulf of Finland.
The total surface area of the business centre is approx. 80,000 square metres. It consists of three fourteen-floor office towers with more than 40,000 square metres of office and business facilities to let and a five-floor car park for almost 900 vehicles. There is a large lunch restaurant, several specialised restaurants and cafes on the centre. The Crowne Plaza hotel is in its immediate vicinity.

Pulkovo Sky and EKE Group have received several distinctions and awards:
In July 2010, EKE was named the Developer of the year in St. Petersburg at the CRE Awards event. Participants in the Pulkovo Sky project, Architectural Studio M4 and ARE St. Petersburg, were recognised with a distinction for their involvement.
At the same time, Pulkovo Sky received the award of the best category B business centre in St. Petersburg.
In September 2010, the Russian Guild of Property Managers and Developers upgraded Pulkovo Sky in category A in the classification of Russian business centres.
In 2010, Pulkovo Sky received second place among Russian office centres in the Green Awards competition.
In 2011, the questionnaire for business centre clients by the Commercial Real Estate North-West magazine named Pulkovo Sky the best business centre in St. Petersburg.
In 2011, EKE and Pulkovo Sky made it to the finals of the office property category in the Russian FIABCI Prix d'Excellence competition.
In June 2017 in the annual project Best 100 Pulkovo Sky was awarded as one of the 100 best business and shopping centers of Russia. As the main advantages of Pulkovo Sky were listed its location with excellent transport connections and proximity to Pulkovo airport, advanced technologies, materials and equipment.
In June 2018 Pulkovo Sky was awarded again as one of the 100 best business and shopping centers of Russia.