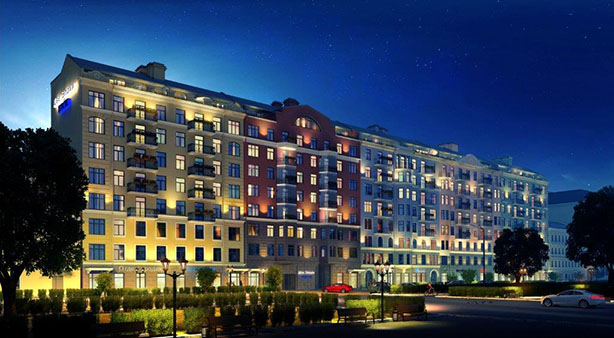 Dve Epohi sales launches in September
EKE launches sales of its St. Petersburg residential complex this September. Dve Epohi project is located in the heart of Vasilevskiy Island next to the historical center of the city.
While having prominent experience of residential construction in Western and Eastern Europe, EKE Group has launched Dve Epohi as its pilot residential project in Russia. Meanwhile EKE has already achieved reputation of a respectable player in the Russian commercial real estate market by constructing and commissioning in the year 2009 Pulkovo Sky business center - one of the most successful business centers in St. Petersburg. Through the last years Pulkovo Sky earned many awards from professionals of the commercial real estate market for its qualities.
EKE makes Dve Epohi project a new classic, combining successful trends of the past and future while preserving architectural and cultural traditions of St. Petersburg. The complex fits ideally into architectural scene of Vasilevskiy island providing maximum level of comfort environment.
"We have worked out the details so thoroughly, from location to technical solutions to use in Dve Epohi apartments," Riitta Ekengren CEO EKE Group confides. "We are family company; we like St. Petersburg so much, consider it magnificent and frequently visit it for business and pleasure. With our new project we want to pay tribute to beauty of northern capital of Russia. Our architectural ideas were inspired by St. Petersburg classical building style of the late 19th - early 20th century".
The project includes a Business class 9-floor building with traditional façade of St. Petersburg "tenement house" of the late 19th - early 20th century and three Comfort class 11-floor buildings with facades of modern Scandinavian architecture. There are designed 317 apartments. Apartments located on the upper floors of the 9-floor building have private terraces and panoramic windows.
Beneath the territory of the complex there is provided a heated car park with 177 parking spaces and entrance to 18th line. Access of the vehicles to the inner yard is prevented. Security is guaranteed by advanced camera systems installed in the territory of the complex and centralized entrance ensures the effective access control system. Playgrounds and sports areas together with recreational areas for kids and grown-ups are designed in the inner yard.
Now that most of the earthworks are finished and soon first floors will be constructed. The planned completion of the project is the 2nd. quarter of the year 2018.
For further information read more at web-site Dve Epohi project (in Russian). or contact us by e-mail:
andrei.hitrov[@]eke.fi
info[@]eke.fi
od[@]eke.fi