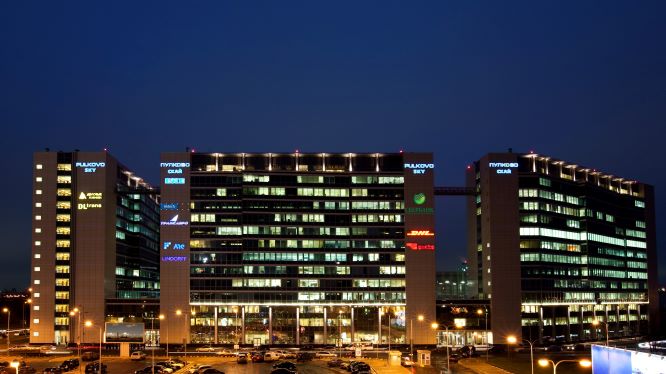 Pulkovo Sky business center has been certified at BREEAM Excellent
Pulkovo Sky business center has been certified at BREEAM In-Use Version 6: Excellent. Pulkovo Sky business center, which is the A class office project of Finnish EKE Group and Vicus Oy investment company, has been certified compliant with the European BREEAM In-Use system for environmental certification of buildings. Pulkovo Sky became the first business center in St. Petersburg and 8th office project in Russia, which has achieved the Excellent level of BREEAM.
BREEAM certification is one of the world's leading sustainability assessment system for buildings, developed by the British BRE Global. The assessment, being conducted by independent licensed experts, evaluates building design solutions, quality and eco-friendliness of materials and technology used, general sustainability, comfort of premises for end users, maintenance level and other environment-friendly solutions and features.
Pulkovo Sky rated with 72,4 points, which conforms to Excellent level. The business center has achieved maximum 100 points for its Management quality, Land Use & Ecology, 60 to 90 points for Water and Resources saving, Health &Well-being.
Riitta Ekengren, CEO of EKE Group, comments: "EKE is focusing on implementation of modern and efficient technologies and committed to high environmental standards when designing, building and managing its real estate projects. We have also put the target for our next office project San Gally Park in the historical center of St. Petersburg to achieve the level of LEED Gold or BREEAM Excellent."
Markus Jaakonsaari, Managing Director of Vicus Oy, comments: "The primary goal of Vicus Oy is to promote investments into the commercial real estate, which is built according to the highest international environmental standards. We are glad that after 10 years in operation Pulkovo Sky confirms its compliance to BRE Global's strict requirements."
According to the GreenBook Live, currently about 90 buildings in Russia are certified according to BREEAM In-Use environmental standards where business centers' share is above 50%. Majority of these business centers are located in Moscow. In St. Petersburg ECO-office Sberbank and Trinity Place business center were certified according to the BREEAM standards.
Pulkovo Sky - Certificate BREEAM In-Use Version 6. Excellent