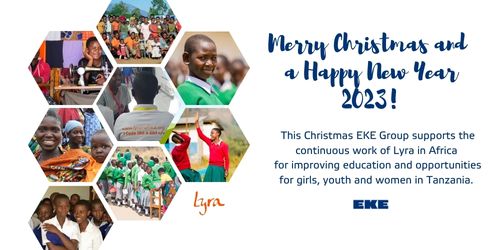 This Christmas EKE supports access to education for girls, youth and women in Tanzania
This Christmas, EKE is supporting the work of Lyra in Africa and helping to improve access to education for girls, youth and women in Tanzania.
In rural Tanzania, the journey to school is often long and unsafe, preventing girls in particular from completing secondary education.
Maria Spink from Finland founded Lyra in Africa in 2012 to enable girls in rural areas to attend school safely. Lyra in Africa began to build safe accommodations for girls next to schools. By 2022, 13 low-carbon dormitories, "Lyra Hostels", have been built with the most ecological design possible, and more than 1,000 girls will live in them each year.
Young women who have attended secondary school often develop into important members and support people in their community and can create a better starting point for life for their children and their families as a whole.
Lyra in Africa supports the activities of schools open to both girls and boys by providing them with international-level digital learning materials, computers and IT teachers. Internet connections can be very poor, so the materials must work offline and be powered by solar energy. Coding is also taught in schools. Girls who have competed under the Lyra's Coding Club's slogan "I code like a girl" have done well in competitions.
This Christmas, EKE Group supports Lyra in Africa's activities with a donation. Riitta Ekengren, who co-founded the Finnish branch of the organization, says:
"The rural population of Tanzania is one of the fastest growing populations in the world. Without access to education for both sexes, many families and village communities will remain in poverty. Even with a little financial support, Lyra can do so much! I'm convinced that, Maria makes sure that the money goes to the activities themselves."
Read more about the diverse activities of Lyra in Africa 
Merry Christmas and a Happy New Year 2023!