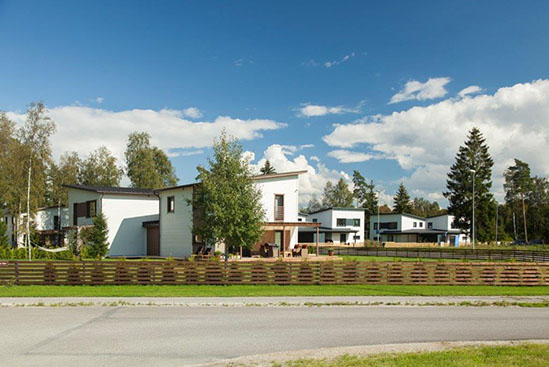 IBE-Estonia to launch a new website and new sales office
IBE-Estonia OÜ Tallinn, part of the EKE Group, is launching a new website for its Uuesalu project in the beginning of December 2016. Moving to a new sales office is planned to take place around the same time.
The new Uuesalu website introduces semi-detached houses and apartments that will become available for sales in 2017.  There will also be plots intended for detached houses.
"Demand for our Uuesalu houses and apartments has been so strong that even the apartment we used as our sales office was sold to a family who so eagerly wanted to settle in Uuesalu, which is known as an active and safe rural community", explains Ülle Kullör, CEO of IBE-Estonia.
In the future, IBE-Estonia can be found at the new address: Hirve tee 12–2, Uuesalu küla, Rae vald, 75331 Harjumaa. The inauguration of the new sales office will be held on 9 December 2016.
(Picture: IBE-Estonia's semi-detached houses, built in 2016, have brought many new residents  to Uuesalu village.)