Construction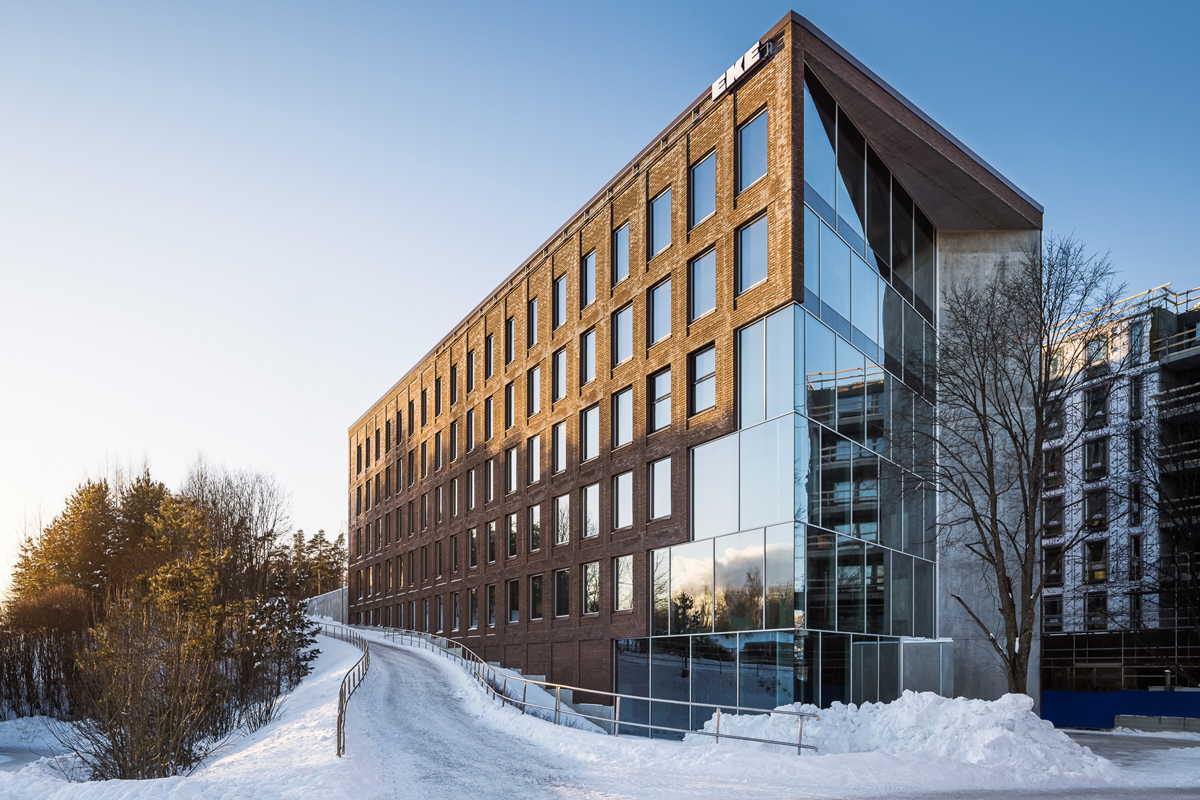 When constructing business premises, we can create sophisticated individual solutions for the various premises needs of businesses, ranging from main office level premises to industrial installations. We carried out our first logistics projects between 2005 and 2008 in the Vantaa Aviapolis area near Helsinki-Vantaa Airport. In 2016 we constructed the Volvo head office and maintenance facilities in the area. We will construct the Piispanportti office centre at Olari by the Länsiväylä motorway. In 2009, we constructed a business centre and business facilities with a floor space of approx. 76,000 square metres next to Pulkovo Airport in Russia. At Kirkkonummi, we are planning a Business Park for the Länsiväylä motorway area. There, we can construct high-quality business premises with a floor space of 40,000 square metres to satisfy our clients' needs.
The Sundsberg Business Park in Kirkkonummi
We are planning the Sundsberg Business Park at Kirkkonummi by the Länsiväylä motorway and the Kehä III national road. The 12-hectare area with an excellent location is owned by EKE-Rakennus Oy. Thanks to its excellent transport connections, the area is suitable for offices, stores, production and storage facilities and logistics centres.
Piispanportti office centre in Espoo
The Piispanportti office centre will provide an excellent location for companies hoping to benefit from the potential of the quickly growing office and service environment and its connections with the entire metropolitan area.
Piispanportti office centre The Loft House
Read more
Vantaan Rasti in Vantaa Aviapolis area
The Vantaan Rasti plot, located in the Vantaa Aviapolis area, still has the construction rights of approx. 23,000 square metres of offices and industrial and storage operations. Let us know what type of business premises your company would like to have. We will construct the suitable premises according to your wishes.
Pulkovo Sky Business Centre in St. Petersburg
In 2009, we completed construction of the Pulkovo Sky Business Centre next to the international airport of St. Petersburg in Russia. The total surface area of the site is approx. 76,000 square metres. The construction complex consists of three fourteen-floor towers and a parking space for 850 vehicles. EKE owned the centre together with its investment partner Vicus Oy until it was sold in early 2023.
Housing construction
EKE Group builds entire residential areas, and our market area in Finland includes the metropolitan area and its surroundings. We aim to create safe, warm and village-like neighbourhoods that all the residents love. The apartments that we build are always well equipped and are built using high-quality materials. We pay particular attention to the functionality of the spaces. House management and service spaces are designed for the users, and there is enough of storage space.
IBE Estonia OÜ has constructed in Estonia several residential areas consisting mainly of semi-detached and terraced houses, the largest of which is the Uuesalu development project that will eventually be home to around 400 families. EKE's subsidiaries SIA EKE-Latvia and SIA KBO operate in Latvia. The companies are developing new residential blocks in Riga and its surroundings.
EKE's concept of residential areas of single-family homes
EKE-Construction Ltd constructs entire residential areas of single-family homes. Tightly-knit neighbourhoods consisting of housing associations provide safety, and they suit modern busy people. The areas are surrounded with plenty of nature and park-like recreation areas that the residents value.
We carry out continuous research, listen to the residents and develop the areas accordingly. We support resident participation in different spare-time activities. In addition, we have interior decorators to develop the apartments according to the new residents' desires. We want our apartments to be great places to live.