Residential construction abroad
EKE Group develops and constructs dwellings and residential areas in Tallinn and Riga areas. In central St. Petersburg we have constructed an apartment block with 317 apartments, which was commissioned in September 2018. Uuesalu area near Tallin is currently our largest residential construction site constructed by EKE's Estonian subsidiary IBE Estonia Oü. In Riga, SIA KBO and SIA EKE-Latvia are developing several apartment block projects.
Residential construction in Russia
The Vasilyevsky Island, St. Petersburg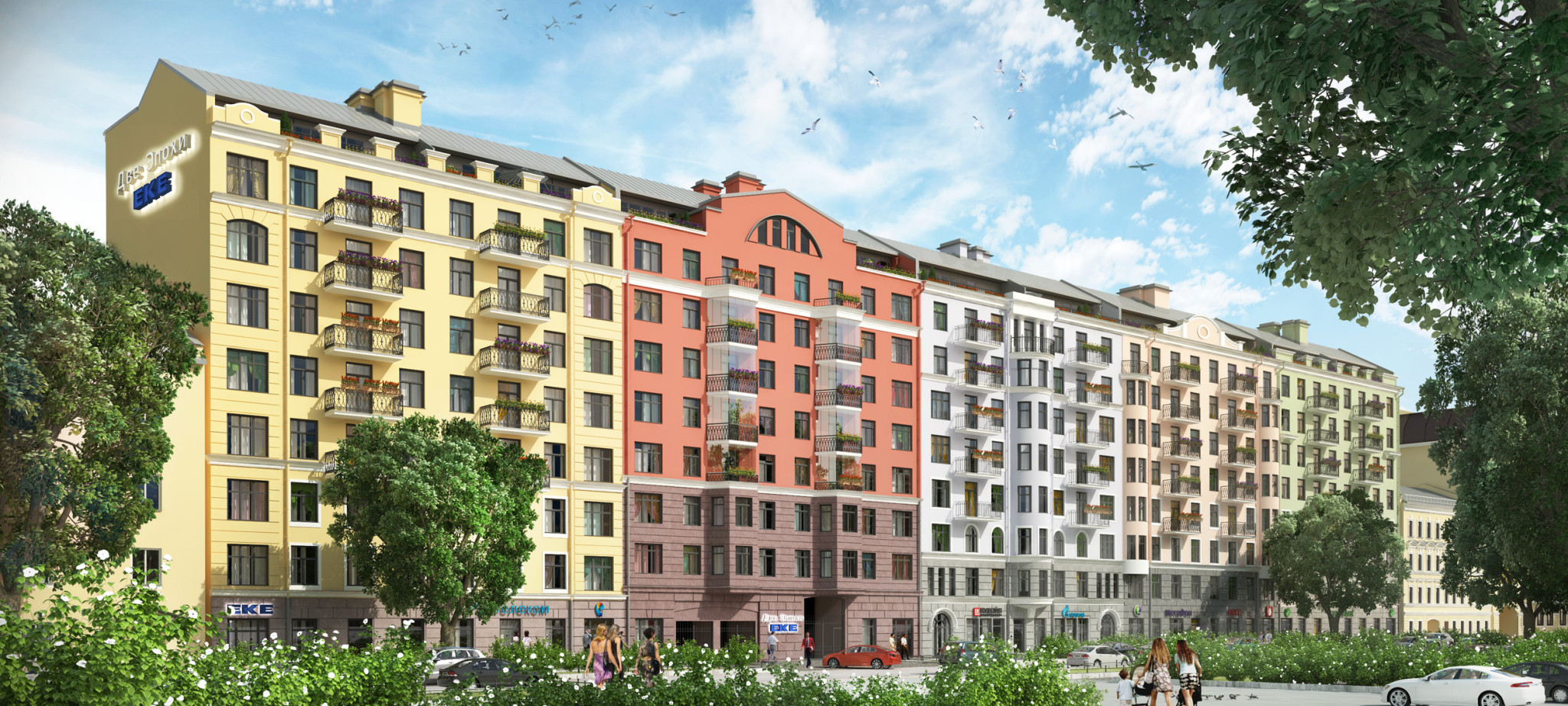 In the beginning of 2016 started EKE-Engineering to construct an apartment house block of 317 apartments in St. Petersburg, on the Vasilyevsky Island next to the historical city centre. Design solutions in Dve Epohi (Two Centuries) represent two different eras: the modern buildings respect the traditional facade architecture typical of St. Petersburg. The car park beneath the site has approximately 180 parking spaces, and commercial premises are located on the street level. Once the western bypass road of St. Petersburg was completed in 2017, the Vasilevskiy Island got a rapid connection to the north and south bypassing the traffic jams in the city center.
Dve Epohi apartment house block was commissioned in September 2018. See video on the progress of construction as of  March 2018.
Dve

 

Epohi

 

has

 

received

 

numerous

 

prizes i

n 

St.

 

Petersburg
In March 2021, in the independent public competition "Trust of the Consumer" – "The best implemented housing estate project in business and elite class in St. Petersburg
In October 2020 – finalist of Top Residential Projects in Russia, among TOP-5 newly-built residential complexes in St. Peterburg
In June 2020 ERZ.RF rated as 2nd best in business class
In November 2019 readers of the online newspaper Fontanka.ru voted Dve Epohi among the ten best residential complexes for car owners.
Urban Awards 2018 rewarded Dve Epohi as the most ecological residential complex of the year in St. Petersburg.
In the autumn 2017, the local business newspaper Delovoy Peterburg rated Dve Epohi as the winner in the category the Best residential complex in the segment of business class.
The independent panel of residential experts has already two times selected Dve Epohi as the best residential project on Vasilyevsky Island – for 2017 and 2018 years.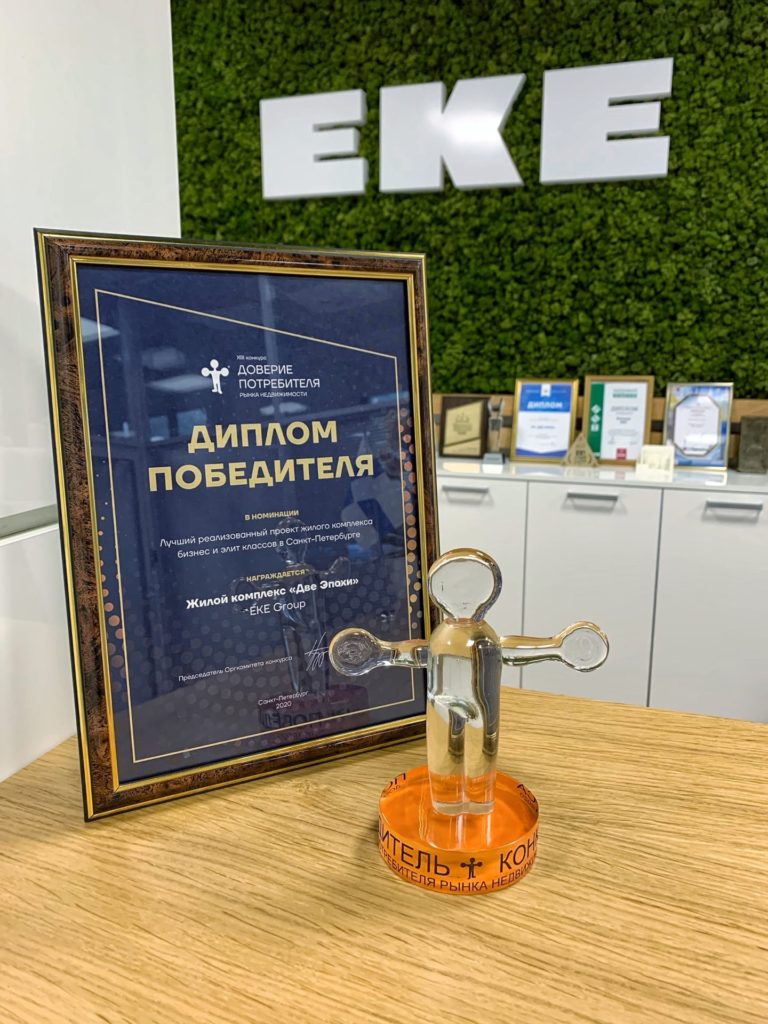 Residential areas in Estonia
EKE's Estonian subsidiary IBE Estonia OÜ has developed several residential areas near Tallinn. The company's largest construction project is the Uuesalu development area with around 400 apartments in mostly semi-detached and terraced houses.
Uuesalu
Located in a naturally beautiful location to the south of Tallinn between two arterial routes providing quick and easy access to the capital, the Uuesalu development project covers around 85 hectares of land. Uuesalu has been built in stages since 2006 and it was granted village status in 2013. Once completed, Uuesalu will have around 400 homes, mostly in semi-detached and terraced houses. As of early 2023, almost 60 houses with around 140 apartments remain to be built.
Vaela
As of early 2023, IBE Estonia has completed the infrastructure for another residential development project to the south of Tallinn in Vaela that will eventually have 18 single-family homes and one commercial building.
Uuetoa
The Uuetoa development project saw the construction of four terraced houses with eight apartments each between 2017 and 2020. A commercial building is in the design stage at the beginning of 2023.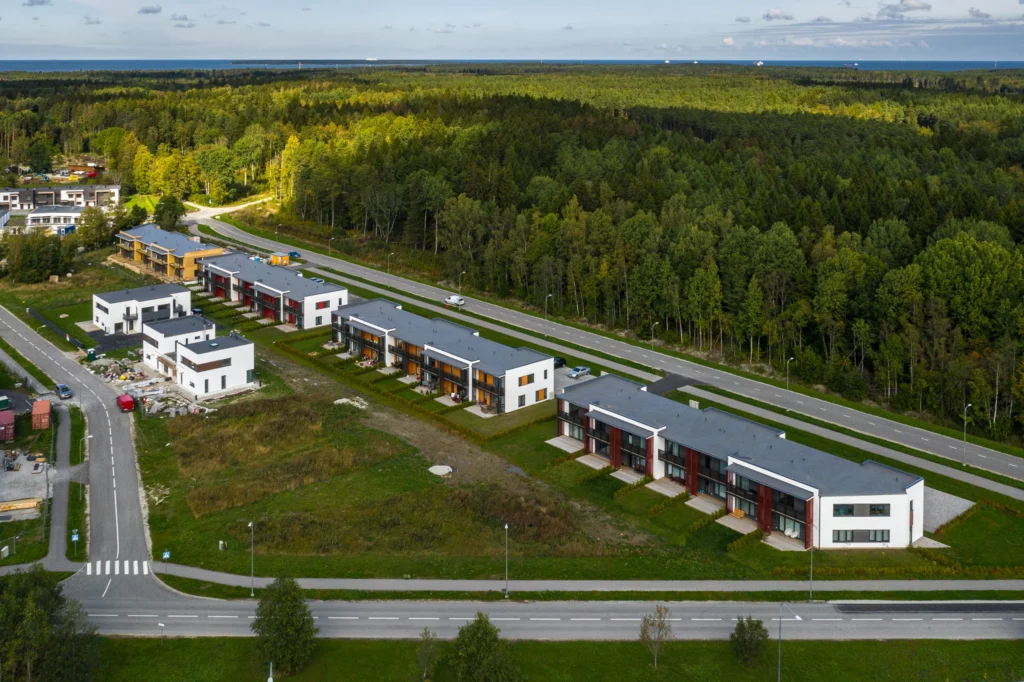 Patika and Peetri
The residential development project in Patika to the southeast of Tallinn was developed in 2005 – 2008, mainly consisting of single-family homes. Another development project in Peetri saw the construction of semi-detached and terraced houses and three-storey apartment buildings between 2006 and 2008.
Residential areas in Latvia
EKE's subsidiary SIA EKE-Latvia operates in Latvia. It develops new residential blocks near Riga. Five apartment blocks are planned for the central area of Riga. It is estimated that the construction will start in early 2017.

Beberi
Our largest construction project in Latvia is the low-rise building area in Beberi. We still have 22,000 square metres to construct.
Marupe
In Marupe, the company owns 12.1 hectares of territory with ten completed semi-detached houses, or twenty apartments . By car, it is only a ten-minute drive from Marupe to central Riga.
Kišezers
In Riga by Lake Kišezers, the company owns approx. 28 hectares of scenic territory. Plans are being drawn for its use for residential and business purposes.